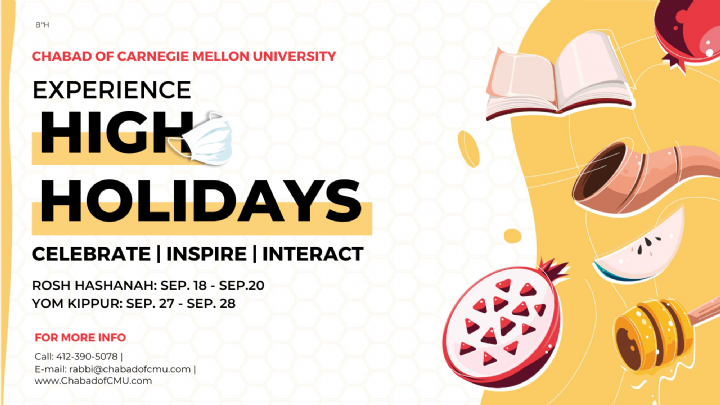 HIGH HOLIDAY SERVICES AND MEALS
Chabad of CMU offers Free High Holiday services and meals.


Rosh Hashanah- September 18-20

Join us for High Holiday services and meals. This year we will have limited space at our Rosh Hashanah services, please email [email protected] for  We will be offering multiple express services to ensure everyone has the opportunities to hear the Shofar in person.
To RSVP for the holiday meals please follow the link below. Most of the meals will be offered to-go in order to keep everyone safe. Socially distant, emotionally close.
Yom Kippur- September 27-28 

You're covered for the holiday with a pre-fast meal and break-the-fast meal to-go. We have arranged an outdoor service for CMU students that would like to attend. Please sign up on this google form so we can let them know how many students are attending.  
Meals To-Go 
Pre-fast meal: Tuesday, 5:30-6:30 pm @ Schenley Plaza Tent
Break-the-fast meal: 7:50 pm @ Schenley Plaza Tent
Services Locations

We are inviting students to an outdoor service in the Schenley plaza tent.
Click Here to RSVP

Fast Begins: Fri., 6:50 PM
Kol Nidrei Service: Fri., 6:40 PM
Morning Service: Sat., 10:00 AM
Mid-day Service: Sat., 12:15 PM
Neilah Service: Sat., 6:15 PM
Fast Ends: Sat., 7:46 PM
For more information email [email protected] or call 412-390-5078